5 funniest Mother's Day e-cards!
Mother's Day is around the corner! For those of you who don't live near your mom and want to send her a quick (and hilarious) reminder of how much you care, why not try an e-card? I always get gifts for my mom, aunts and abuela, but if I know I won't see them the day of, I'll send them a funny e-card in the meantime --and they love it! It's a funny way to show them that I'm thinking of them and always gets some laughs.
And whether it's a video or just a hysterical message, these cards are especially perfect for any mom with a great sense of humor. Below, the 5 funniest Mother's Day e-cards. Enjoy!
1. If you have siblings, this card is the perfect, teasing reminder to your mom!
2. Words of wisdom from your mom.
3. What a good deal! Those teenage years were hard.
4. Ahh, is there anything sweeter than the sound of your child calling your name? Oh wait...
5. Ideal for all those moms terrified of their daughters living in busy, metropolitan cities.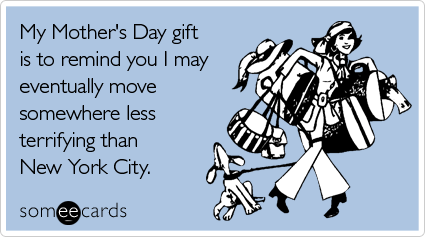 Do you kids ever get you funny cards?

Images via YouTube/someecards