12-year-old boy makes bold decision to stop cancer treatments, be with family
We have officially found the world's bravest 12-year-old. Tennessee boy and longtime cancer patient, Alex Rodriguez was first diagnosed when he was 7, and he recently announced a bold decision to stop his ongoing treatment to go home and spend time his family.
Rodriguez has battled rhabdomyosarcoma, a rare form of cancer, for years, and much of his childhood has been spent undergoing harsh treatments and painful surgeries. Though chemotherapy made him cancer-free for a couple of years, the tumors eventually reappeared in different parts of his body, like his legs, arms, shoulders, and lungs. Faced with the final options of either undergoing experimental treatments in Texas or staying home, Rodriguez bravely chose home.
Now, his community is rallying around him in a show of support for his courageous choice. Florists in his hometown are giving out blue ribbons for residents to hang on their mailboxes or street lamps in honor of Rodriguez. Jeffrey McGee, a minister from a local church, is asking stores in the area to cover up their signs with messages so that Rodriguez can see them when he travels through town. And Harris Middle School, where Rodriguez attended sixth grade, is running a fundraiser called "Ribbons for Alex," in which profits all go towards his hospice care.
Read more ¿Qué más?: American Idol alumn Travis Orlando inspired to go back to school

But, Rodriguez also intends to enjoy his days in other ways. His two wishes are to see the Coca Cola factory in Atlanta, Georgia, and visit the indoor water park at the Wilderness Resort in Tennessee. His first wish will come true this weekend, when he and his family will travel to the Coke factory in a limo donated by a businessman.
Read more ¿Qué más?: Eva Longoria is trying to make you more money

I am astounded to such a young boy make such a difficult and mature decision. It's a choice that would be impossible to make as an adult, let alone as a child. And yet Rodriguez does it all with a sweet smile on his face! He has undergone such extreme hardships throughout his life and is somehow still willing to face new opportunities in his remaining days. What an inspiration for the rest of us! I genuinely hope that the rest of his precious time is filled with fun and laughter for him and his family.
To donate to the family, contributions are being accepted at Alex Rodriguez Benefit Account, Peoples Bank of Bedford County, 1122 North Main Street, Shelbyville, Tenn. 37160.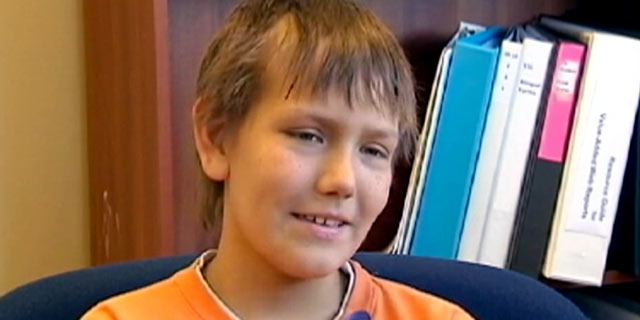 ABC News - Boy, 12, Halts Cancer Treatment
Photo Credit: Abcnews.com